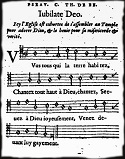 by Christopher Nelson, SMM New York 1969
Chris was born in California
and raised on the mission field in East Africa,
where he attended Rift Valley Academy.
After attending University of the Pacific in Stockton CA,
he received his master's degree, Master of Sacred Music,
at the School of Sacred Music, which was, in those days,
part of Union Theological Seminary in New York NY.
Since then, he has pursued various hymnody projects
culminating in his English version of the
Genevan Psalter of 1562, and, more recently,
setting the whole project to music
as anthems with significant organ accompaniment.
He is Director of Music at
Messiah Lutheran Church in Spokane WA
and is a member of The American Guild of Organists.
Introduction
This website presents the Bible in verse.
Virtually all portions of Holy Scripture that can be
reasonably versified are here, including passages
that are already in poetic form
together with portions that are
or may appear to be in prose.
'Verse' implies verse-in-stanza.
This narrows the field considerably,
since not all poetic sections of the Bible
can be properly organized into stanzas.
Nevertheless, this includes
most of the popular stories of the Bible
and other well-known passages.
And of course, the Psalms.
Stanzaic verse is our heritage from the Reformation,
a way to organize text to be sung
congregationally in hymn-form.
Whether sung or not,
stanzaic verse is a helpful way to organize text
to be more readily accessible.
The main requirement in stanzaic verse is that
each equal-length stanza must have fresh material.
If the Bible text under consideration is already
a continuous flow of fresh ideas, then the
transformation to stanzaic verse is fairly straight forward.
But if the text is very wordy and full of repetition of ideas,
even though it may be in poetic form already,
the transformation to stanzaic verse
must become a thinning-out process.
This often happens in the Gospel of John
and in Genesis stories like The Flood.
Certainly the Bible has its own reasons for repetitiveness,
but this is not allowed in stanzaic verse.
For instance, a long list of names
does not lend itself to stanzaic verse.
I have set myself many rigid requirements that
I believe enhance the freshness of my method.
Not only should there be no repetition of ideas —
I do not even allow repetition of words themselves.
One of the few places the Bible engages in
obvious stanzaic verse is in Psalm 119,
where large stanza-like portions are attached in sequence
to the letters of the Hebrew alphabet.
However, Psalm 119 is in fact very repetitive,
being a grand flow of expression on a single idea,
namely the Word or Law of God.
Synonyms for word or law are repeated over and over.
In my scheme I attempt to minimize this
repetition from stanza to stanza and to maximize freshness
Since my verse size is about one quarter of the Bible's,
this gives room for considerable condensation,
an increase in accessibility
while retaining the overall gist of the Psalm.
The Bible's love of wordplay can be seen in
the 9 Alphabetical Psalms.
I take this as a cue for all my versifications, though,
rather than use the letters of the alphabet
as my series from stanza to stanza,
I allow any series of letters whatever,
and place them, not only at the head of the stanza,
but at any point in the stanza,
often on rhyming words at the end of the line,
not just once per stanza,
but as many as 5 or 6 times per stanza,
always anchored twice at the same spot in each stanza.
If this series of letters happens to spell
a quasi-meaningful English word like "gracecourted",
so much the better.
Another level of objective literary interest
has been added to the material.
In other cases, I use for my poems the
musical idea of being in a key,
not just A through G
but any letter of the entire alphabet,
in which case all stanzas have exactly the same
number of words beginning with the chosen letter.
Not only do I consistently rhyme my lines,
but my rhyme-schemes are rigorously true rhymes
with no exceptions.
The English accent and flow are also rigorously and
consistently applied from stanza to stanza.
I think this rigor gives a certain measure of confidence
to the reader that the poet is knowledgeable
(once he has proved his talent).
The core of the Bible is the Psalms.
The Psalter is also my starting point.
For my verse forms I have chosen all the meters
of that monumental and influential
Geneva Psalter of 1562,
using the same rhyme schemes as the French.
Only the meters of the Geneva Psalter provide
the richness required of a rich Scripture.
Once I versified the Psalms, I paired each one
with another part of Scripture in order to
illustrate that the Bible as a whole
sheds light on all its parts, in particular,
that the Psalms shed light on the rest of Scripture.
Each pair always contains exactly the same
number of stanzas,
so that it is perceived as a true pair.
Acknowledgements
My wife Betty has given much support to this project,
also friends Joanne and Carole,
plus teachers at Rift Valley Academy —
Trumbull Simmons and Geraldine Stocum,
at University of the Pacific —
Virginia Short and Charles Schilling,
at Union Theological Seminary —
George Powers and Richard French,
and during the more recent years —
the hymn writers Howard S. Olson and Jaroslav Vajda.
May the Holy Spirit smile upon this formalism,
this stanzaic versification,
offered as an additional helpful way
to experience Scripture.
Completed in the year 2009,
the 500th anniversary of John Calvin,
the promoter of the Geneva Psalter
which at long last must come to life in English.